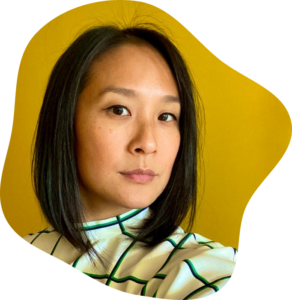 Fiona Teng 鄧穎恆 (she / her) is a Hong Kong-born, SF Bay Area-made, and NYC-based equity-informed communications strategist, writer, and storyteller. She has over 10 years of experience working cross-departmentally to strategize, manage, and develop stories and content for print and digital media. Her professional highlights include directing the visual identity and digital promotions for The Light Ahead podcast; supporting research, editing, and promotions for the book Beloved Economies: Transforming How We Work; leading the writing for Building Movement Project's race equity assessment, report, and website; assessing the communications landscape at the Northeast Sustainable Agriculture Working Group, and creating a comprehensive communications report with observations and recommendations (see report below). I'm also proud to have led the NYU Entrepreneur Institute's website accessibility retrofit, while helping them articulate their user journey, and a Zipcar campaign video with over 280,000 views.
Fiona's approach to poignant, succinct, and engaging storytelling is motivated by both her knack for spotting unique perspectives and connecting with the reader. Whether she's creating content from her perspective or someone else's, Fiona's ability to engage with her audience personally creates an emotionally and intellectually compelling experience. 
Fiona serves as a founding member of the Alumni of Color Association at her alma mater, UCSB's Bren School of Environmental Science and Management, to drive institutional and programmatic refocus with equity at the center. She loves creating content for her new project The Way Out, reading about movement building, playing percussion, honing her plant parenthood, and dreaming up how to live a location independent life.
Fiona supported our campaign with a truly wide range of comms work -- from co-creating and project-managing launch strategies for a book and podcast; to clarifying our campaign's theory of change in both language and substance; creating graphic assets and website updates; relational engagement with our featured community, and more. She brought a rare blend of strategic insight, storytelling artistry, impeccable follow-through on details, and a fierce commitment to her values. Fiona was a joy to work with.
Fiona has been an asset to our communications work. She is innovative, creative, and responsive, with fastidious attention to detail and deadlines. She creates beautiful and compelling content, and excels at developing processes to ensure that our communications reach and are attuned to different audiences. She is deeply committed to racial equity, has a high level of integrity, and is just a dream to work with. I highly recommend her!
Fiona moves seamlessly between conversations with C-level executives, members of the media and a member walking in off the street. Her emotional intelligence is advanced beyond her peers. You couldn't ask for a better communication strategist and leader than Fiona.
Fiona is a fantastic strategist who is adept at developing concepts and implementing logistics. She is an excellent team player, an effective communicator, and a rock-steady project manager. She was a reliable and trusted member of our team. I cannot recommend her more highly as a positive and productive contribution to any institution.
Fiona's keen eye for inclusive and accurate representation in all things communications make her an especially valuable asset for any organization working on social justice issues - crafting poignant messages and materials that contribute to and advance public conversations in a fresh and important way.
It was an absolute joy to work with Fiona! She helped bring our content to life for our organization's brochure, and helped our team see the work that we're doing in a different way. Fiona truly is amazing and we look forward to working with her again in the near future.
Communications Report
Video
Editorial and Program Development
Nonfiction Writing
Speaking and Interview Engagements